We have had so much fun with our produce pick up this week. We have made some amazing dishes.
Fresh Tomato Soup
Vegetable Minestrone Soup
Zucchini fritters
Stuffed Peppers
Salsa's
Freezing
Last night we had Minestrone soup, Zucchini fritters, and steamed green beans.
Today's recipe is the Zucchini fritters. This was a super easy recipe.
Step 1 Shred.
4-6 Shredded zucchini
1/2 cup whole wheat flour
3 green onions chopped thinly
2 eggs
salt
pepper
Olive Oil, drizzle
Shred the zucchini into small slices like step 1. Then add flour, salt, pepper, green onions, and eggs. Mixture will look like step 2. In a medium heat pan, drizzle oil and place a scoop of zucchini mixture and round out with fork. Allow to just brown on first side and then flip. These brown quickly and you do not want to over cook. I like to server with salsa or hot sauce. The kids enjoyed these so much they made fritter sandwiches for lunch today.
Step 2 mix everything together.
If you are wondering what produce pick up I am talking about you can see past post on
60 lbs of produce for $10.00
.
Ways this recipe can be used?
as a side
main course with a salad or soup like above picture
in sandwiches (my kids idea)
make smaller silver dollar sizes for snacks.
taco filling- we do zucchini tacos often.
Tomorrow I will write about blanching tomatoes and freezing. Recipe will include the Minestrone Soup, in above picture. This was a very tasty soup that I was able to sneak in a wide variety of vegetables that the family enjoyed.
Kids Project for today
Free Coloring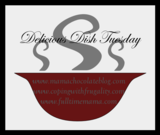 I featured this recipe on
Delicious Dish Tuesday
hop. Feel free to stop by the other yummy blogs for even more recipes.