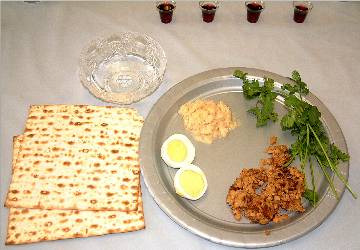 Today is Holy Thursday: Passover.
I love any time I get to use food in a traditional and historical way. It has been celebrated yearly from the time in Exodus. The meaning of Seder Meal is "order", telling the story of the Hebrews slavery in Egypt and deliverance. It is not just practiced by the Jews but those wishing to become closer to the scripture and history of this meal. We like to do a basic Seder Meal on Holy Thursday for the purpose of recreating the event the Hebrews experienced. It is a great time to talk about slavery, faith, and trust in God. Start to finish it symbolizes a time of pain and ends in praise of deliverance. It helps kids bring the story of Exodus to life. Jesus came to Jerusalem on Palm Sunday to partake in the Passover and share this meal with his disciples before his Passion took place. Here the use of food is a direct representation of life experiences. This is a wonderful experience!
What is used during a Seder
Lamb
- the word "pesach" (passover) applies to the Lamb of sacrifice and the deliverance from Egypt. Roasted and seasoned with garlic, onion, and herbs.
Unleavened bread-
Matzoh is called the "bread of Affliction" because it recalls the unleavened bread they prepared for a hasten escape by night from Egypt. Three large matzohs are broken and eaten during the ceremony.
Bitter herbs-
(Horseradish) is a reminder of the bitterness of slavery and suffering endured in Egypt.
Green herb
s- (Parsley and Celery) to be dipped in salt water. The salt water represents tears of sorrow during the captivity of the Lord's people.
Haroseth-
is a mixture of chopped apples, nuts, cinnamon, and wine representing the mortar used by the Jews to build structures in Egypt during their slavery.
Wine-
(Red) used to sip on with four words through the meal. "The four cups", Thanksgiving, Telling, Blessing, and Righteousness.
You can make your own Unleavened Bread.
1 cup whole wheat flour
3 tbsp oil
pinch of salt
just enough water to make a dough, non sticky
Knead about 10-15 times and add a little flour to counter if necessary to keep dough from sticking. Divide the dough into four pieces. On a wax sheet roll out dough and make a square. Use a fork to prick the dough. Then peel off dough carefully and place on baking sheet. Bake bread at 400 degrees for 8-10.
For a Seder Meal outline see
Introduction to a Christian Seder.
They do a wonderful job of mapping out a passover with description, pictures, and history. This meal should and can be a great history lessen for the whole family. It does not have to be the exact interpretation. Have fun with the kids and teach them some tradition, culture, and faith.