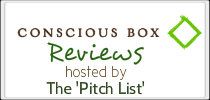 I love to try new products that support and encourage Organic and Green living.
Conscious box is a cool company that put together a monthly box of products to be delivered to your door for you to enjoy. This month was a great assortments of things I love.

So what all was in this months box?
GoGo Squeez- applesauce on the go.
Powbab- super food vitamin chewy supplement, delicious!
Sun warrior- raw protein vanilla blend, also delicious.
Skin smart- antioxidant teas (3). I loved these teas and will be buying some more soon.
Aromatherapy card pack of helpful recipes and information for using essential oils. I loved this, because it was packed with information.
Sweet Orange Aura Essential oil, LOVED IT! I made a message oil with it from the recipes in the Aromatherapy cards.
Organic Peppermint mints.
Organic energy bar.
Muscle relaxing tea, which I can't wait to try out tonight. I increased my run today and am feeling the effects of a great run. This tea will be well used tonight before bed.
Naturally it's clean- floor cleaner.
Mighty Leaf- Iced tea bag. We used this for out family afternoon tea and the kids really enjoyed it.
beautiful container of Eyeshadow that I have used and gotten many wonderful comments on.
Assorted natural sweeteners.
coupons for most all the products.
I loved everything in the box and thought this is a great way to try out honest companies and their products with out the worry if we would like them or not.
Conscious also, had a neat card included in the box with 5 different ways to recycle and reuse your box.
The Mission of Conscious Box

Conscious Box is dedicated to introducing you to the most ethical, sustainable, and honest businesses that create the purest products available. We scour the marketplace to find those that stand above the rest. Discovery defines the Conscious Box experience.

~Conscious Box

You can read more about their

mission statement and ethics here

.
This is a great deal for under $20 a month!
Next month will be the August 'Back to School' Conscious Box! It's going to have delicious, nutritious snacks, some great daily alternatives, and tons of other really fun stuff that everyone will enjoy, making it an AWESOME gift for all students, including K-12 and college. And yes, it's great for students
and
non students alike, so you can gift it to anyone! Just remember, you've got to order before the 6th of the month! This is the only legitimately healthy care package we've seen this year, and they're going fast! I already put my order in and can't wait for it to arrive!