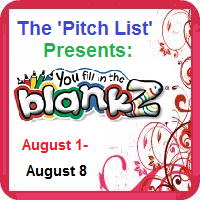 I was excited to review BlankZ. They are a fun company that make a creative and sustainable toy that you design! I received the Bare Hare Set, which is an adorable bunny with 4 washable markers green, red, blue, and black.
Veronica was so excited to be the first of her siblings to color the Hare, underneath is her little creation.
We had a blast and all the kids got to enjoy it. I just threw it in with a normal wash and each day they went to town on a new design.
The BlankZ was easy to wash and color again and again. We washed the bunny in cold water and dried on normal settings. It is important to have your BlankZ completely dry before creating on again. One thing I noticed, that if the markers where still wet it would get on the kids fingers, and was easy to come off with a simple hand washing. You can always keep your creation on for extended time periods by keeping your BlankZ dry and away from anything wet.
To the right is our US Woman's Swimming Team Bunny. The kids said that she had to have the Olympic tattoo or she is not at the Olympics.
As you can see, we are having a lot of fun with our BlankZ!
About the Company, BlankZ
We are a U.S. based, boutique marketing and product development company.
We make toys for other companies and have been doing so for many years.

We are based just outside of New York City in Long Island.

We've been making toys of all kinds for many, many years.

the blankZ Shop is brand new. We just opened so that creative people who don't live near one of the stores that carry our products have the chance to buy them as well.

The blankZ are only for sale in small, specialty retail shops around the USA and now in Canada.
For a list of stores in your area please check the blankZ website page. From BlankZ website
Looking to win one??????
The Pitch List is going to be giving away one everyday for the next 7 days. A new winner will be picked each day. Be sure to enter in the rafflecopter below and checkout the other blogs and their little creations!
a Rafflecopter giveaway