Today's recipe is super easy and delicious.
Tropical Yogurt
1/2 cup of Vanilla Fat Free Organic Yogurt
1/4 cup of chopped organic mango
2 tbsp. raw organic coconut flakes
Whether you have for breakfast, snack, or a dessert this is a tasty healthy choice for 2013.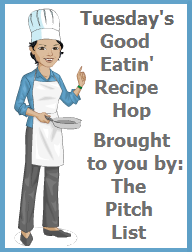 Welcome to the Good Eatin' Recipe Hop
hosted by
The 'Pitch List' Bloggers
Every Tuesday you can join us to share great recipes.........
There are no specific themes.
Add your recipe of choice to the linky.
No Giveaways Please...all giveaways will be removed.
We Love Comments! Please Share!