I am usually not a big Ice Cream person unless it's a birthday party, and even then not often. When I was first asked about looking at an ice cream company, I was ready to say no, until I read more about them. I was first intrigued that they are Non GMO! Then I noticed all the features of their ice cream and thought I have to try this!
Arctic Zero
sent me all 8 of their featured ice cream to try! First was a little worried about when they were being shipped because its Ice Cream and we live in Arizona, you know the valley of the SUN! I was worried it would be a big puddle of cream without the ice. Arctic Zero has excellent shipping! When I got home one night after 3 hours of gymnastics I found a box by the front door. As you can see the ice cream was still frozen with no danger of melting!
We decided to have a fun little ice cream party to try them all out. We all got to taste the different flavors each having their own favorites. Michael enjoyed the Mint chocolate chip the most. Veronica chose strawberry as her favorite ice cream. Gabriella liked them all, of course! Kirsten could not decided, she said she needed to have another serving of them all to real make a educated decision! Kirsten is my sweet tooth girl, if you had not noticed.
Arctic Zero*** No Artificial Flavors, No Artificial Colors, No Artificial Sweeteners!! With amazing taste!!
I wanted to show both pictures to see the labels and the colors of the ice cream. These were very delicious and a great choice for our family! I am very concerned with ingredients and how companies try to sneak in toxic ingredients. Arctic Zero takes pride as a healthier ice cream! This delicious treat can actually be looked at as a Protein Shake in ice cream form! I personally feel better about giving this treat to my kids without the large amounts of sugar. The pints actually are a great size amounts too! I like that each pint only has 150 calories. You can enjoy the treat without all the guilt of ruining your workout.
Arctic Zero Features
Less than 150 calories per pint!
Gluten free
Fat Free
Suitable for Lactose Intolerant
Contains only Organic and Natural ingredients
Low Glycemic and suitable for type 2 Diabetes
14 Grams of Whey Protein Per Pint
Kosher
No-GMO!!!!!!!
8 Grams of Fiber per pint
Great for kids ( NO Sugar Alcohols)
Available in
Chocolate
Mint Chocolate Chip
Strawberry
Cookie and Creme
Coffee
Vanilla Maple
Pumpkin Spice
Chocolate Peanut Butter
"At Arctic Zero, we love ice cream. We've always loved ice cream. But we hated the fact that everyone who loves it pays for it in the worst possible way: compromising their health. Nothing else on the market came close to offering both great taste and demonstrated health benefits, so we decided to invent a great tasting dessert that did."~~Arctic Zero.
You can order from
Amazon!
Or you can find a
store location
near you!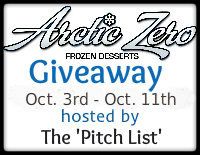 Disclosure: I was given the product above to review and write an honest experience as a Pitch List member. I am not paid for my reviews, I just enjoy bringing you organic and wonderful companies that are good for you and good for the body.