Most have already started their back to school events and are settling down from the rush of backpacks, supplies, clothes, shoes, and lunchboxes, but did you remember to get their sunglasses? Your child's backpack is surely packed with notebook, paper, hand sanitizer, but did you remember to pack them a pair of sunglasses? Weither they are walkers to school, on the play ground, or just to and from classes, they should have their eyes protected.
The Sun in Arizona can especially be damaging, so I was very excited to review
Real Kids Shades
for my daughter Kirsten.
Did you Know?
"82% of parents make sure their children are wearing sunscreen when outdoors, but only 32% tell them to put on sunglasses."
"23% of parents don't check if their children's sunglasses provide protection against UV rays."
"A survey found that 40% of Americans don't know that UV protection is an important factor to consider."
~~Real Kids Shades.
These are some pretty interesting percentages that I know I fall into at times. Sunscreen is a big necessity in our house, and sometimes I just forget to make sure the kids are wearing their Sun shades. I have also bought glasses just for the character on them and hoping that the UV ray protection was adequate.
Kids love to be outside, and I encourage mine to be out in the sun and fresh air as much as possible but with protection. Children's pupils are especially susceptible to damage since the lenses of their eyes are more transparent than adults. I know not all kids enjoy wearing sun shades, but Doctors urge us to find a way to encourage them to wear their shades. So what can you do? Make if fun for them. Let them pick out a pair of sunglasses that they pick themselves. Real Kids Shades has a multitude of styles, colors, and frames that are comfortable for kids.
Since 2002 Real Kids Shades has made it their mission to protect as many children as possible form the damaging effects of UV rays. They make affordable shades for babies and children that ensure 100% UV protection.
See more on the Truth about shades
.
Additional Information
The science behind Real Kids Shades
Proven and Tested
For my daughter we chose the age 7-12 years,
Fabulous Shades. ($14.99) with case.
Description
100% UV protection (UVA & UVB) to 400 nanometers clearly indicated on each individual package

Fashion Forward

Professional grade polycarbonate frames and lenses

Shatterproof and Impact Resistant

Wrap style design for a close, comfortable fit that minimizes peripheral light

Waterproof Rustproof

Fun to wear! Our sunglasses come in a variety of fashion colors and fun patterns. Kids just love to wear them and parents can feel good about putting them on their kids
The girls love this style and I was surprised that it fit them all so wonderfully. The sized did fit my oldest daughter best so be sure to get the correct age and size as it best protects their eyes. The Travel case comes with a clip that you can attach to their backpacks so they never leave home without their protection. Here is Kirsten's backpack with her sunglasses case attached to the outside. She likes to have it on the outside so she remembers to put them on and that it is easier to put them away this way. I would prefer her to put in her front pocket, but the most important thing is that she is wearing them.
Warranty!!!!!
Real Kids Shades has a great warranty program. The sunglasses are 100% replaceable. Simply return your sunglasses and they send you a new pair of the same style with no questions asked!!! Great right? I know my kids have cracked, broke, and scratched sunglasses in the past. I love that these are so easy to replace.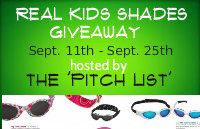 Would you like to win a pair for your little one? Real Kids Shades was also generous in allowing members of the Pitch List to host a giveaway. Please note entrants are only allowed to win one Pitch List member giveaway per event. There will be 10 winners, only one winner per IP address.
Enter Rafflecopter below and good luck.


a Rafflecopter giveaway
DISCLAIMER: No purchase is necessary to enter. Void where prohibited by law. The odds of winning are based on the number of entries received. This promotion is no way sponsored, endorsed or administered by, or associated with, Facebook and is Facebook-compliant. Winners will be notified by email from a 'Pitch List ' Blog. Winners will have 36 hours to respond or risk forfeiting their prize. Prize fulfillment is the sole responsibility of the sponsor. This blogs participating may not be held liable for Sponsors who do not fulfill prize shipments.