Announcing a giveaway with Newsman's Own.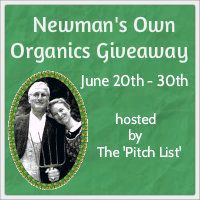 DeDa Studios
is featuring her review and experience with this organic company.
"Newman's Own Organics is headed by Paul Newman's daughter Nell Newman. They offer organic products with a wide consumer appeal. They feel that people want to know more about the food they eat! All of their items are made with certified organic ingredients.


For my food to be organic is extremely important to me. In today's world with our food coming in from all countries....we never know what it is made of and what they have added to it!

" ~~DeDa Studios
They are giving away a box of Newman's Own goodies. I have had their Newman-O's and they rock! There is 7 blogs giving away a box of goodies! You can only win on one, but to increase your chances be sure to hop on over to the other blogs. Good Luck!