When I post about a product, I like for it to be beneficial for the body. This is why I like to review Green items with companies that go the extra mile to put only ingredients that are safe for your skin, the largest organ on your body. I feel it is important for me to try the item more than just a few times. I personally think you have to use the item over and over , in different scenarios, to get a true feel for if you liked the item or not. That said, with all my reviews I have put it to the test and it does not reach this page unless it stands up to the test!
Since we are coming up on Father's Day, I wanted to let you know about a item that my husband and I have used so much that it is a barely recognizable sliver.
Wildwood Soapworks Lime and Coconut Bar
!
When I first used the bar I thought it a wonderful scent for Summer. I could not help but think of the beach, cool breezes, and umbrella drinks. It is funny how scents are tightly links to memories. This was my favorite Bar to wake up to. It initiated a energizing feeling to start my day. The Lime and Coconut Soap Bar with it's seven plant base oils leaves your skin feeling amazing and great way to start your day.
One thing I have noticed is that in the last three months that I have used
Wildwood Soapworks,
exclusively, I have had little need for lotions. I usually have to add lotion to my hands, legs, and arms throughout the day. While my skin in very dry in AZ, my husband skin is more oily. I found that using essential oils and their amazing mixture of plant oils, was great for both skin types. It helps balance what you body is needing, to balance the natural PH of the skin. Some soaps and products strip the skin of its natural oils so much that it works harder to replace the oil needed for healthy skin, creating an oily complexion at times. My husband and I both have noticed that even though we are different skin types with Soap Bars help to naturally balance our skin.
Now I will be a little more, personally, honest. The only area I continue to have trouble with being dry is my feet. I am a stay at home mom who hates to have shoes on in the house. That is a big rule here, you take your shoes off unless we are having friends over for a get-together. For the household the shoes come off as soon as you walk in the door. That said, I walk around barefoot, a lot. I never had trouble with dry cracking feet when I lived on the East Coast, but for the last 6 year in AZ, it has been a battle. I have used all types of lotions, creams, and my poor pedicure gal just shakes her head every time I come in.
I received a
Pink Grapefruit Lotion Twist Up
, and have used it off an on for my arms and legs. While I did not necessarily need it for a dry skin, I used for the great scent and to give my skin a natural glow. It was about two weeks ago that I was really frustrated with my feet, because I have my wonderful trip to Scotland coming up, and I thought I need to schedule my pedicure. Once again, I was mad at myself for walking barefoot so often and wearing sandals everywhere. As I am thinking about this I notice my Lotion Bar on the counter. I mentioned above that my skin has improved with the soaps so much that I have little need for Lotions, right. I thought about trying it on the one trouble area I was having. I have to say the Lotion found a new spot in my house, which is on the night stand by the bed.
Lotion Twist Up- "A fresh citrus scent will awaken your senses while revitalizing dry, tired skin. One of our best sellers, it has a sweet, subtle aroma that appeals to one and all. Chase away the winter blues with sweet summer sunshine...bid farewell to roughness, and greet the new you!"
I used a gentle buffer, to remove the current dry skin on the surface, and then rolled on the Pink Grapefruit Lotion. It felt wonderful on my feet. You may not have this problem, but my heels have gotten so bad that there are cracks. So often the foot lotions are greasy and you have to wear socks to bed. I don't know what it is, but I can't sleep in socks. One thing I noticed right off was that it was none greasy and I did not need to wear socks. Within two days of using the roll, at night time alone, I noticed huge improvements. I have been using it every night before bed now and have reduced the cracks and can touch smooth heels again! You have no idea how wonderful this is for me. For one thing, this is a topic I never like to admit with even good friends, but I was so happy to find a use that really helped a problem area for me. If you have the same problem of battling dry heels, than try the Lotion Twist Ups.
Be sure to check back this week! Wildwood Soapworks will be Sponsoring a $25 Gift Certificate for "I love Dad" Father's Day event. Giveaway starts 6/10 and ends 6/17.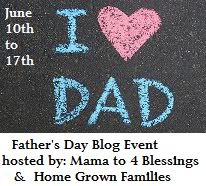 Lime and Coconut Soap Bar
is valued at $9.95
Pink Grapefruit Twist Up
Lotion is valued at $6.95
Wildwood Soapworks has free shipping on all orders $10 and over, but be sure to like their
Facebook page
for the "
Deal of the day
".
You can find them on
Twitter,
where you can have updates on their events and specials!
For the wonderful man in your life! If you are not sure what soap bar or items he would like most, you can
purchase Gift Certificates to be delivered by email.
Super simple and here in time for Father's Day.
Reviews of Wildwood Soapworks.
Wildwood Healing Balm Review
Green Your Mom: Golden Slumbers Sleep Balm
Have you heard of Wildwood Soapworks?
I have not been paid for this review, it is mine and mine alone. I received my bar for just being a new follower on their Facebook page. I am not making any sales in this post either. I just love the product and the mission of this company~~Natural, Organic, and Safe! The Company is so friendly, be sure to stop by Facebook or twitter and tell Sally that Kelley's Passion sent you!
I just want her to know how much I appreciate her Passion for clean wonderful products!