I love this day and think it is about so much more than food. It is a time to come together as friends and family and be truly thankful for our lives. What a wonderful way to celebrate by cooking up some amazing, delicious, healthful food.
While I am sure some will have the traditional dishes of Turkey, mashed potatoes, green bean casseroles, stuffing, I would like to add a few healthful dishes too. I will be making a few raw and vegan dishes to keep my body balanced and not so much of a carb load.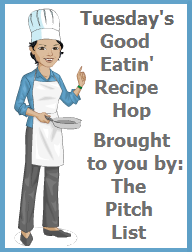 Welcome to the Good Eatin' Recipe Hop
hosted by
The 'Pitch List' Bloggers
Every Tuesday you can join us to share great recipes.........
There are no specific themes.
Add your recipe of choice to the linky.
No Giveaways Please...all giveaways will be removed.
We Love Comments! Please Share!