Why would it be important to look into to Greening your cookware?
Green Earth
Wok by Ozeri
is not only beautiful but highly efficient! I first have to say that the most eye catching color is this lime green! This wok makes my kitchen look good! Moderna Housewares is the distributor of Ozeri, and the wok is part of their ecozeri line. It is ultra-safe, 100% PTFE and PFOA free ceramic non stick coating, meaning it is a ceramic coating derived from nature.
Because Ozeri uses a natural ceramic as a coating, the Green Wok is one of the worlds first wok's to achieve a non stick perfection without the toxins mentioned above. You may be asking what does PTFE and PFOA mean? Nothing good!
PTFE "
toxicity can occur anytime of year, and it's consequences are devastating. The only clinical signs of illness are birds starting to drop off their perches or displaying severe respiratory distress such as open-mouthed breathing, tail-bobbing, or even audible respiratory rales (raspy breathing sounds) followed quickly by death."~~
Old World Aviaries
While this is talking about birds, I wonder what it does to us? I say non toxic gasses for anyone, right?
PFOA
"has been shown to cause cancer, low birth weight and a suppressed immune system in laboratory animals exposed to high doses of PFOA. Studies have shown the chemical to be present at low levels in the bloodstream of 9 out of 10 Americans, and in the blood of most newborns. And although the effects of PFOA at lower doses in humans are disputed, there does seem to be a link between PFOA and raised levels of cholesterol". ~~LowFatCooking
As you can see cooking and the type of cookware you use does make a difference. I most use stoneware and cast irons, but was really excited to try the Wok from Ozeri.
Features
No harmful heavy metals or chemicals
Superior non-stick performance
Durable scratch-resistance ceramic, as found in nature.
Comfortable oven safe handle!!
Completely eco-friendly (meaning ceramic coating emits no harmful fumes)
Easy to clean.
Induction stove safe.
I have made so many wonderful dishes with my new wok! I have made Stir fry's, soup, meatballs, Currys, and the list goes on. It is super simple to lightly cook vegetables with no oil needed. This was a huge plus for me. The vegetables cooked perfectly to just heat them without over cooking and I had need for no oil. Here are a few of the dishes I used from the last few weeks.
I was able to make my meat balls with no oil in the pain and they cooked wonderfully. Usually, when I use my cast-irons, I have a little meat stuck to the bottom. Nothing stuck and the wok was quick and easy to clean.
Here you can see how deep the wok is and the beautiful green I mentioned above. This has become my new Kitchen color!
I also made these dishes in the wok!
Indian Mixed Vegetable Curry
Good Eatin' Recipe is Black Eye Peas Curry
Homemade Chicken Noddle Soup Recipe
Over all I love this Wok. My husband has not had a chance to cook with it, but I know it will be his go to item for cooking. I am sure we are going to make Green Chili soup this weekend!
The Ozeri Wok is available on
Amazon for $38.95!
This is think is a steal of a deal for an item tyhat is safer for your family and a great price. The convenience of no sticking, easy cleaning, and using less oils-SOLD!
Be sure to check out more information on the Eco line, and the pans that they offer in this
eco line here
.
You know where to pick yours up, now do you want to win one?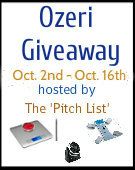 The Pitch List is giving away
Prize #1
- Wok, Kitchen Scale, Pepper Grinder
and Prize #2
- Desk Fan, Pedometer and Bathroom Scale. Wow right? Only one winner per IP address. Just enter in the Rafflecopter below, its very easy! Be sure to stop by and see the other reviews in the linky below. This is the time to be getting ideas for the Holidays. Ozeri will bring a smile to any of your loved ones this Christmas!
a Rafflecopter giveaway
DISCLAIMER: No purchase is necessary to enter. Void where prohibited by law. The odds of winning are based on the number of entries received. This promotion is no way sponsored, endorsed or administered by, or associated with, Facebook and is Facebook-compliant. Winners will be notified by email from a 'Pitch List ' Blog. Winners will have 36 hours to respond or risk forfeiting their prize. Prize fulfillment is the sole responsibility of the sponsor. This blogs participating may not be held liable for Sponsors who do not fulfill prize shipments.